Investing with Synergy Capital over the last year has been a rewarding experience. Both Ryan and Josh are professionals who understand the RE market and select the right projects to complete. They are accommodating to my questions and I have learned from their experience all the while I'm making above average returns on my investment.
Vic L., Pittsburgh
In my first deal with Josh, Ryan and Scott, they bought a house in Emsworth and flipped it in a matter of less than 6 months. I was the private lender, and everything went very smoothly. Money was lent for the purchase of the property and an equal amount was put into escrow. The escrow payments were released upon my inspection. These guys made the monthly payments promptly and quickly did a very professional rehab. When completed, they had a beautiful house which sold on the first day they listed it for full asking price. They are truly a professional group who know what they are doing and I won't hesitate to do business with them again.
E.N., Pittsburgh
We initially funded a property for Scott back in November 2009, and have been doing private funding for Synergy rehab projects since without hesitation. Having funded multiple projects for Synergy over the past couple of years, we look forward to funding many more. Scott and Josh are true professionals in the Pittsburgh real estate market.
Chris M., Pittsburgh
I have been dealing with Josh and Scott for about a year now and i have financed a few properties to date. I found them to be very sincere and transparent in what they do and they are very detail oriented in the flow of work they undertake. The properties which I financed and which got resold after the rehab exceeded my timeframe expectations and the prices they were expecting for the properties were very realistic.
S.B., Pittsburgh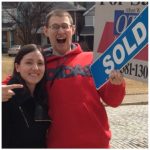 Just Closed!
Angie & Pete
I wanted to just add some feed back about Scott and Josh. Two plus years ago we purchased a home they had listed in Castle Shannon. They both were very professional, friendly, handled everything for closing and answered any questions promptly. Which everything went fast and painless. We are still working on areas with in the home, but truly love it. The best part is that we are making it our own, as we go, doing some of the repairs. I would recommend them to anyone looking at a home whether you want a move in ready or a fixer up. We have been renting for years and now to have a place paid off and doing the repairs with the changes we want for less cost than expected! I am so glad I added myself to your mailing list years ago. I still look through the listings and we are thinking about another purchase down the road for a rental income.
Lance R.W.
ACRE Member Testimonial
John Z.